Website Translation Services
Reach international audiences and tap into new markets with translation and localization services for your website.
Expand the Reach of Your Content
Did you know that by translating your website into just 11 languages, you can expand the reach of your content by 250%?
That means more traffic, more sales, and more engagement across channels.
Wolfestone Group's website translation services include localization, multilingual SEO, and our industry-leading accuracy control. We ensure that your message is not only translated—but also received by a global representation of your target market.
Contact us now and receive a quote in less than 60 minutes.
Brands We've Worked With


Why Translate Your Website With Wolfestone?
All-Inclusive Website Translation Agency: Translation is about much more than words. It's about the meaning behind your message and the ability to reach the eyes and ears of your target. That's why Wolfestone's web translation services include everything you need to send a cohesive message and reach new markets, including translation, localization, and SEO.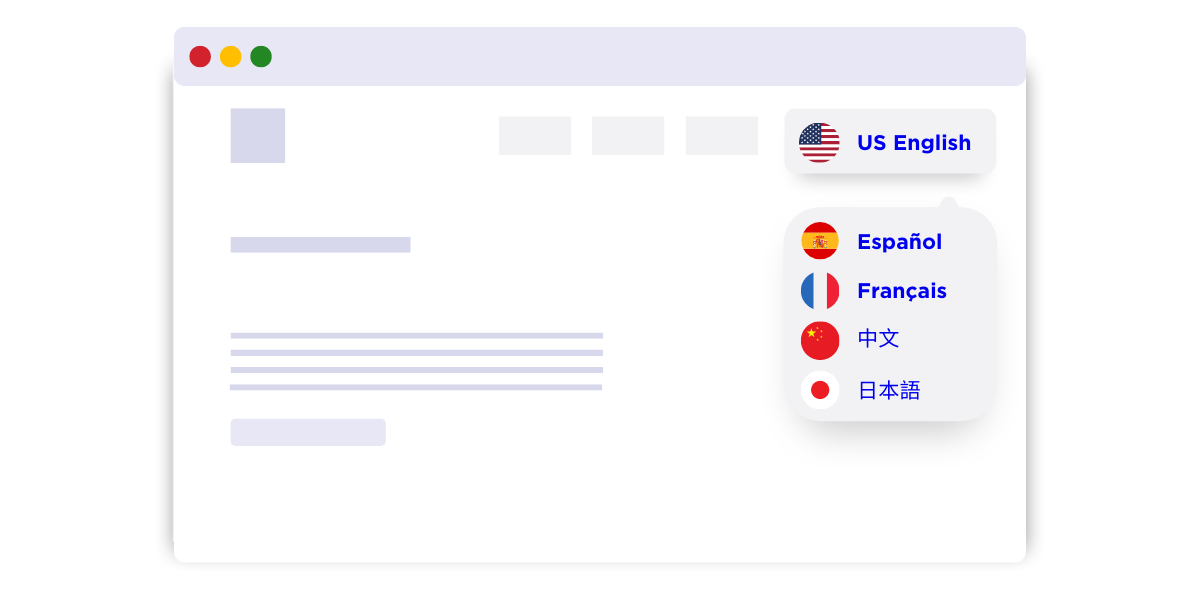 24/7 Service and Rapid Delivery: Business moves fast when you go global, and your content needs to adapt quickly. We're ready with the most responsive translation service in the industry. Contact us 24/7 and we'll assign a translator to your task in 60 minutes. With our rapid translation service, your web content will be ready to post within 24 hours.
Web Translation on any Platform or CMS: WordPress, Shopify, IBM Enterprise—wherever your content is posted, we have the technical expertise to adapt it in any language. Our translators work with backend experts to ensure your content maintains the same visual appeal and SEO prowess across borders and platforms.
The Industry's Highest Standards for Accuracy: Our multipoint quality controls include human editors and AI machine editing to guarantee flawless translation and localization. We measure accuracy based on a variety of metrics, including meaning, tone, register, formatting, and more.
Wolfestone Group's Web Translation Services
Proper Translation: Full translation and localization by a team of industry-specific linguists and translators. Our detail-oriented approach captures every nuance of your brand and considers your target market in the chosen language, making it ideal for eCommerce website translation. Content is optimized for SEO and meticulously checked for accuracy before it's delivered to you. Proper Translation is recommended for your evergreen content, sales content, landing pages, and product pages.
Proxy Translation: This software-based service utilizes advanced AI to mirror and translate content in real-time. The proxy system automatically reads and stores translations on your site, eliminating the need for a multilingual CMS or having to export and import content. This service is affordable and convenient, but the accuracy of translations and localization is not guaranteed. It is ideal for blog posts, news, and urgent announcements. Posts translated by proxy can be properly translated at a later time.
What's Included with Your Website Translation?
Professional Website Translation: A team of industry-specific specialists will translate your website content into the target language, maintaining the tone, style, and identity of your brand.
Localization Services: Locally-based linguists work with translators to ensure your content is culturally relevant to the target market. We take into account word choice, expressions, and cultural sensitivities.
Multilingual SEO: SEO algorithms work differently in every language. Our backend technicians perform research and testing to ensure your content ranks on leading search and eCommerce platforms in any language.
Award-Winning Quality Control: Your translation is checked and double-checked by human translators and AI controls against a variety of metrics. We are proud to have the most rigorous accuracy controls in the industry.
Get in touch for a free website translation quote within 60 minutes.
What is a Website Translation Service?
A website translation service takes your existing web content and translates it into a new language. This may also include localization, which ensures the translated content is culturally appropriate as well as technically accurate. Many businesses choose to translate their website in order to make their products, services, or content accessible to a wider audience.
Why Translate Your Website?
A Cost-Effective Way to Scale: Translating your website allows you to utilize your existing resources to appeal to a much larger market. In a few short weeks, your content and marketing materials may extend their reach by well over 100%. This is a quicker and more cost-effective way to scale compared to other marketing efforts.
Boost Traffic and Conversions: Translated web content bolstered by multilingual SEO instantly opens floodgates of traffic from markets around the world. Optimizing content in Spanish alone can increase engagement for US brands by nearly 150%. And with professional website translation by Wolfestone, more traffic means more conversions.
Increase Trust in Your Brand: Consumers prefer to search and buy in their own language. But convenience is not the only factor. When a customer encounters properly translated and localized content, their trust in your brand increases. More trust increases their likelihood to buy and improves your brand's reputation.
Improve Your Website's SEO: Translating your website can cause your web traffic to skyrocket, increase on-page time, spur on organic backlinks, and boost overall engagement. This has a positive impact on your SEO, helping you climb the rankings and build authority.
Working with Wolfestone is easy and efficient. Their customer service and account management go above and beyond to make sure that their translations are high-quality and on-time.
Got a question about our website translation services?
Wolfestone Group: Providing Award-Winning Linguistic Services Since 2006
99.15%
Customer Satisfaction Rate
50+
Awards and Nominations
Wolfestone Group is an award-winning website translation company for businesses large and small. Our innovative approach to translation has earned us over 40 awards, and we are members of the American Translators Association (ATA) and the Association of Translation Companies (ATC).
What makes us different? We know that translation is more than just words on a page. That's why we sit down with our clients to develop tailored translation solutions that fit their brand and their budget.
We have grown to become one of the most trusted professional website translation companies for many reasons, including:
A dedication to partnering with and retaining the world's best translators
Investment in new technology, such as AI translation and customized software
24/7 availability to provide a quote, assign your project, and deliver results FAST
The best selection of professional website translation services to fit every budget and industry
Wolfestone Group's web content translation services will accelerate your business' growth on a global scale with the confidence and reliability that you deserve.
Contact us today to find a translation service that fits your needs. Or, let us know what you have in mind and we'll send you a quote in 60 minutes.