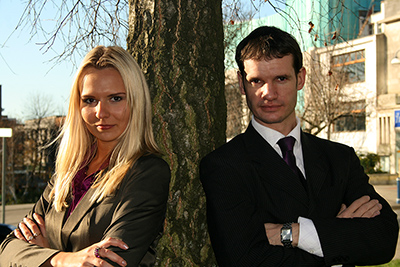 Wolfestone Translation Ltd, a local company established by Directors Roy Allkin and Anna Bastek, triumphed in the final of the South Wales Business Awards, which was held at The Bear Hotel, Cowbridge on the 15th October 2008.
The Swansea business Wolfestone Translation has been recognised by their peers for their commercial successes in spite of the worst economic conditions experienced for decades. This time they performed a clean sweep at the South Wales Business Awards held earlier this week. The awards were sponsored by Cardiff Business Life, the University of Glamorgan and Careers Wales amongst others.
Wolfestone walked away with the award for "Business Services Business of the Year", after numerous rounds of intense judging and holding off stiff competition from some excellent South Wales companies. The competition was judged on client relationship management, staff policies and attitudes, sales and marketing, outstanding results, obstacles overcome, future plans, and local community/charity involvement
Wolfestone is renowned for the excellent service it provides to other businesses across the globe. Roy Allkin said "Wolfestone is proud to have won such a prestigious award, particularly as it recognises our innovation, customer service and strong business acumen. Furthermore, our success at the Awards is a reflection of Wolfestone's passion and commitment to languages and communication, as well as the hard work of our team. We are so proud of what we have achieved and the great people we have working at Wolfestone Translation."
As well as translation and interpreting, the company has now added a variety of additional language services such as subtitling, transcription and specialist proofreading to name but a few.
Wolfestone plans to continue with their success and develop a network of offices around the globe so that customer service will be further improved and will enable Wolfestone Translation to not only be more cost effective and operate in new markets but more importantly to be a 24/7/365 company.
Wolfestone are also finalists in the UK final of the FSB British Small Business Champions awards in the Most Promising New Business category. The UK final is held in November in London. One down and one to go!