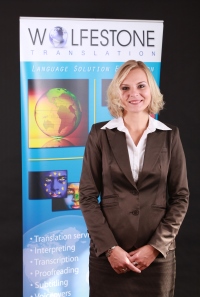 Anna Bastek, co-founder of Swansea based company Wolfestone Translation, will address Welsh business leaders at the Mariott Hotel on Wednesday 13th February, in an event organised by Leadership and Management Wales. Audience members will receive advice on how to enhance their business leadership skills, learn about the qualities required to be a successful entrepreneur and be given an insight into the way businesses are grown and developed by inspirational leaders. Alongside Anna Bastek will be James Taylor, the founder of SuperStars. Superstars is a company driven by the objective of spreading the benefits of sport across Wales. Anna Bastek has extensive strategic and management experience, and will be sharing her first-hand experiences of growing a successful business from scratch. With a marketing and engineering background Anna, along with fellow entrepreneur Roy Allkin, has built a multi-awarding winning language translation company in just six years. Wolfestone now employs 30 staff and has clients ranging from Coca Cola to RBS and the BBC. The company places particular emphasis on cultivating and developing talent through training and professional development. This commitment led Wolfestone Translation to win the Chamber of Commerce Award for Skills and People Development last year. Speaking ahead of the event, Anna said:
"Hopefully the talk will inspire people to grow their businesses and provide some actionable objectives. We believe that by recruiting and investing in the best people, we are able to provide our clients with quality service, which in turn ensures the company's longevity."
The event, entitled "Entrepreneurial Leadership", starts at 8:00 am.