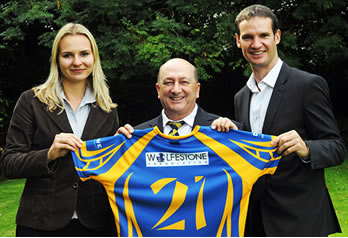 As part of their goal to become more active in the local community, Wolfestone, a leading language services agency offering translation of all languages, proofreading, voiceovers, urgent translations and a wide range of other language services, have become the official sponsors of Briton Ferry Rugby Club. In addition to sponsoring the senior Briton Ferry team, Wolfestone will also contribute to the youth team in order to foster the development of new talent, and hope that their contributions will persuade youth in the Swansea area to become more active in the club. Wolfestone also consistently donate, sponsor and contribute to charity and sporting events throughout the area, and even award prizes to people whom they believe deserve them for their knowledge of languages; hoping that this will promote the language services industry as one which affords the student with a wealth of job prospects and opportunities to learn for future self improvement.
"We are committed to providing as much support as we possibly can for our local community"
, commented Wolfestone Director, Roy Allkin.
"In addition to sponsoring our local rugby team's shirts, we also support a wide range of charities and universities. One such example is our Student Awards, in which we help to secure high standards by presenting young and talented aspiring linguists with awards. We also very recently took part in the Help for Heroes half marathon run not only to assist the charity, but hopefully to encourage a healthier lifestyle amongst our own employees. Ultimately, we hope that our local community activities will, in the long-term, help encourage the youth of our community - and the members of Wolfestone's team - to be more active in local events, and help our surrounding area in any way in which we can."
Philip Thomas, the treasurer of Briton Ferry Rugby Club added:
"In this era of cutbacks and closures, Briton Ferry RFC are pleased to announce that they have secured the sponsorship of Wolfestone Translation. Our club relies upon sponsorship to survive and to get a new sponsor is excellent news for us. We run several age group minis, a youth side and two senior sides and the administration costs are astronomical, so hopefully the partnership between Briton Ferry RFC and Wolfestone Translation will continue to promote youth and senior rugby in the locality."
In picture from left: Anna Bastek, Philip Thomas, Roy Allkin