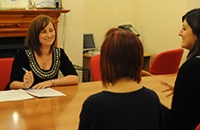 Wolfestone, the Swansea based
translation specialist
, is teaming up with Careers Wales West to give local schoolchildren a
platform for success
in the job market. As part of a joint initiative to
build confidence and employability among young people
, HR Manager Emma Roome spent a day coaching students on interview technique at Bishopston Comprehensive School, offering an ideal
"dress rehearsal"
for meetings with prospective employers. Many Wolfestone staff attended local schools and the
company's management team
includes former Bishopston pupils. The school's commitment to modern European languages also makes them a
natural partner for Wolfestone
. Having studied French and Spanish at degree level,
Emma was impressed with the aptitude of Bishopston's pupils
, many of whom enjoyed a school trip to Andalucia during Autumn half term as well as celebrating a recent European Languages Day organised by the school's French and Spanish Departments. Bishopston pupils regularly excel in external exams. In 2011 a record 88.5% of
GCSE students attained at least five A* to C grades
, and the school consistently ranks among the highest performing comprehensives in the country. Wolfestone Directors Anna Bastek and Roy Allkin see this as a call to action:
"When we see young people working hard at school and getting such good results, we want to do everything possible to help them carry that momentum into the next stage of their lives. Why shouldn't a talented, hard working school leaver approach an employer with confidence? They have plenty to offer, and we're happy to remind them of that".
A period of remarkable success for Wolfestone was crowned last month with the
2012 South Wales Chamber of Commerce Award for Skills and People Development
. This recognised the company's commitment to staff development and also its wider achievements in
engaging the local community
. Wolfestone sponsors annual Awards for Excellence for MA students at Swansea University, and
Anna is a firm believer in reaching out to an even younger generation
:
"A recent report by the Chartered Institute of Personnel and Development revealed that only 12% of employers would consider hiring 16-year-olds direct from school. I don't like that statistic. I want it to change, but it's not enough just to want something to happen. At Wolfestone we believe in making it happen. For our clients, for our team and for our community. That's why days like this one at Bishopston Comprehensive are just as satisfying as the days when we win awards or new contracts".