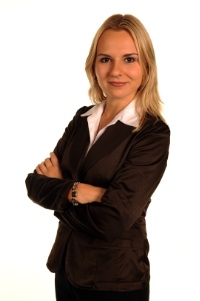 Wolfestone Translation Director Anna Bastek is no stranger to accolades, but her victory in today's Institute of Directors Wales Awards was particularly pleasing. Anna won the award for Talent and Innovation, the latest in a series of major business awards. The Wales division of the Institute of Directors has almost 1,000 members and sets a standard for business excellence in the Principality. Nominations came from within the business community, and Anna was delighted with their recognition.
"At a time when Welsh business needs positive, proactive leadership I've done my best to provide it. Our translation service has helped countless Welsh clients build bridges to emerging markets overseas, and this is a very gratifying reward".
The Institute describes its core brand values as "Professional, Inclusive, Commercial, Energetic and Open & Honest". These words might just as easily be used to describe Anna's work at Wolfestone. The company has achieved a remarkable 500% growth in turnover over the past three years, offering not only specialist services to clients but specialist career paths to employees. Wolfestone has provided a continuous good news story for the region, winning awards for staff development and launching innovative new products and services. The recent launch of a purpose built voiceover studio has opened the door for Wolfestone clients to take promotional video messages into any market. More and more clients are now opting for dubbed and subtitled videos, adding a new dimension to their export marketing. Robert Lloyd Griffiths, the Director of IOD Wales, viewed the awards as an ideal opportunity to highlight inspirational business leadership. Anna Bastek is in full agreement.
"The Institute of Directors is a long standing supporter of entrepreneurship, and that's exactly what this country needs. I believe Wolfestone has found the right direction not only for ourselves but also for our clients, showing them a path to domestic and international success. Wales can achieve, Wales can lead, and I believe Wolfestone can help to show Wales the right direction."