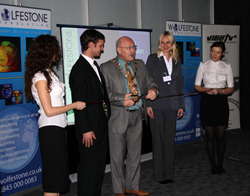 This is just the latest step for Wolfestone – plans for further offices in Russia, China, the Middle East and India are at advanced stages, which will make the company a truly global operation. It is also significant that the event was Local company Wolfestone Translation continued its remarkable development by officially launching their newest overseas office in Houston, USA. A glittering event was held at Swansea University's brand new Digital Technium, with the Lord Mayor of Swansea making a speech and ceremonially cutting the ribbon to formally launch Wolfestone Translation USA.
The event was held in the Digital Technium as Wolfestone is currently leading the way in developing and utilising bespoke, state of the art digital technology in order to meet the demands of globalisation and the 24/7 economy head on. This will greatly enable Wolfestone to continue to expand as currently planned. The Lord Mayor stated 'Wolfestone are setting the standard for business in Swansea. Their growth and success has been truly remarkable and the City and Council of Swansea are proud to support a Swansea company that is expanding across the globe and promoting Swansea as a business hub. There are many advantages to doing business in and from Swansea and Wolfestone are proving that. Long may their success continue and I look forward to their continued global expansion.'
The event was attended by an array of dignitaries and business people and a selection of speakers highlighted the need for local companies to think big and to be ambitious. They also emphasised that, in times of economic slowdown at home, it is essential to pursue new opportunities outside of your own domestic market. Directors Roy Allkin and Anna Bastek also described how expanding abroad can, at the very least, safeguard existing jobs in South Wales, or, as Wolfestone is doing, actually
create
additional employment in the region. Roy Allkin said 'Wolfestone have had incredible success over the last couple of years and we certainly aim to carry on that trend. We now employ 15 people in Swansea and our continued expansion means that a lot more jobs will be created here over the next few years.' Also on the night the University and Wolfestone Translation officially announced the Wolfestone Awards for Excellence which will provide substantial cash prizes to those Masters graduates that have demonstrated exceptional talent in the fields of translation and languages. Professor Andrew Rothwell, Director of Swansea's MA in Translation with Language Technology, said: "We are delighted to be working closely with a leading-edge and dynamic company such as Wolfestone. Their professional input into our training, with lectures, in-house mentoring and work placements for our students, has added a new dimension to the programme and has been hugely appreciated by the beneficiaries - a significant number of whom are now Wolfestone employees."
Wolfestone also recently won the South Wales Business Awards Business Services Business of the Year 2009 and are also the winners of the overall title of South Wales Business of the Year 2009.
Photograph copyright of Wolfestone Translation, taken at the launch of the company's US office. Swansea, 29th October 2009