How much do translation services cost?
"How much do translation services cost?" It is the age-old question, and in times of tightening the purse strings, it has never been more important to guarantee value-for-money when paying for translation services. In this week's blog, we are going to break down the factors that affect translation rates and offer our money saving tips.
When it comes to the things we buy on a regular basis, it is fair to say that we are pretty good at knowing what we can expect to pay.
A supermarket meal deal? No expensive surprises there. A full tank of gas? A rough guess will be pretty close.
It is also fairly easy for us to understand why something costs the amount it does. We know how much a sandwich, snack, and drink costs individually, and can mentally apply that magic meal deal discount. What is more, most of us drivers, for example, will have a good idea about the current price of a gallon of fuel, especially when the cost creeps up.
But what about when you are paying for a service? That is when things can get a little bit trickier. Particularly if that service is translation.
How is translation cost calculated?
Translation agencies are known for keeping their cards close to their chest when it comes to translation rates. Professional translation services are always in high demand, and in most cases, it is absolutely fundamental that your project is carried out by a specialist, qualified translator. That is why translation agencies may feel like they can afford to be secretive about their pricing because they know that businesses operating around the world rely on their services.
But here at Wolfestone, we are different. We are big fans of transparency. That is why we have created this handy guide on translation rates so that you can ensure that you are getting the highest-quality service, no matter your budget.
Now, let us break down the main elements that impact translation rates, and work towards understanding the nitty-gritty of your translation quote.
Language pairs
One of the most important elements of your translation rate per word in your chosen language pair(s).
A quality translation agency will always assign a professional, qualified linguist to translate from a language they are highly competent in (the "source language") into their native (the "target language"). If possible, the agency will always prioritize linguists who are based in a country or region that speaks the target language in order to keep up with the latest linguistic developments, trends, and cultural nuances.
The reason that language pair affects the price is supply and demand: There are considerably more professional translators available for some of the world's most popular languages (such as English, Spanish, French, Chinese, etc.) than there are for some of the less widely-spoken languages.
What is more, there are certain language pairs that are more common than others, which may have to do with the popularity of certain foreign languages being taught in a particular county, international trade and business, and diplomatic relationships, and therefore affects which languages a certain translator is likely to be proficient in.
Also, the linguistic characteristics of the paired languages are another determining factor. For example, the romance languages are very similar to one another, thus it is not too difficult to find a translator who is highly proficient in English, French, Spanish, and Italian with one of them being the native language. On contrary, you will rarely see anyone who can master languages across multiple linguistic classifications with language pairs like English – Chinese and English – Arabic. Therefore, the talent pool would be significantly larger when translating in between languages within the same linguistic classification.
On top of that, the direction of translation (source to target) also matters. For example, it is usually much easier to translate from English to Chinese comparing to from Chinese to English. Thus, the number of available qualified linguists changes even it is the same pair of languages but in different directions.
In short, it follows the basic supply-and-demand economics model. The variables determine the amount of supply (qualified linguists) and the rates are inversely proportional to supply.
Cost of living
The second thing to note is the cost of living. It is probably unsurprising to hear that professional translators can charge higher rates depending on where they live – but it is important to flag this all the same.
For example, you might expect to pay more for a translator based in New York than in Korea, so keep this in mind when you're receiving your translation quote.
However, it falls back to the principle we previously mentioned that an agency will always prioritize linguists who live in the country or region where the target language is native. Thus, sometimes it is necessary to pay the higher cost for quality.
Turnaround time
Another factor that will affect translation rates is your preferred turnaround time. In no rush with your project? You will not be looking to pay a premium to offset urgent work. However, highly time-sensitive translations are likely to cost more. If you are looking at same or next-day delivery, expect to pay double or even triple the regular amount.
But is there a way to save money?
Luckily, translation technology has come on in leaps and bounds in recent years, and there are plenty of cost-effective solutions for when you have tight deadlines to meet.
For example, Wolfestone offers an AI-powered machine translation service for when large amounts of text need to be translated swiftly. Neural machine translation with minimal human editing could translate around 6000-8000 words per day, which can be scaled up if you have a particularly tight deadline and do not require "beautiful language". This is compared to a human translator's capacity of roughly 2000 to 2500 words per day.
You could also opt for post-edited machine translation (PEMT), which means a human linguist will proofread and edit the machine-translated content to ensure accuracy and correct syntax. This "happy middle ground" approach is especially popular for high-volume technical content writing in fairly simple language.
The good news? There are plenty of options when it comes to meeting both your budget and deadlines. Any translation agency worth its salt will do everything it can to accommodate your very requirements.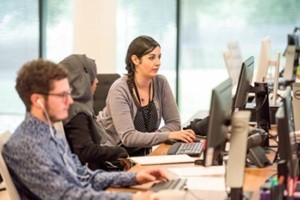 Sector and Subject
A final, crucial factor in determining translation rates is the sector and subject of your project.
The more technical the material, the more qualified the linguist will need to be to handle it. For certain areas, such as high-stakes medical, legal, and scientific translation, the translator will usually hold specific qualifications in these fields, alongside linguistic qualifications and knowledge as a given. On top of that, the translator will likely spend a significant amount of time researching the subject field in question. It is therefore important to note that sector-specific qualifications will cost more.
In the same vein, whenever your content needs to persuade, influence or impact, you're going to need a translator with significant experience in marketing and advertising, or opt for transcreation services which are usually even more expensive
Ultimately, though, this is an investment. High-quality marketing translation, particularly of brand slogans, copy for global campaigns, or content for landing pages, should be part of your long-term global growth strategy. A well-localized brand image and brand voice can quickly gain traction and build momentum in a new market.
Why Wolfestone?
Wolfestone offers a bespoke, tailored service.

If you are still wondering "how much do translation services cost!?" remember that Wolfestone was founded with a simple ethos: Complete customer satisfaction. When you work with Wolfestone, you can expect to receive a totally bespoke service. We will take the time to listen to your budget and craft professional, tailored language solutions for your very requirements.
We can customize our service to fit your budget and timescale requirements.
We cover over 220 languages with our vast database of highly vetted translation professionals, including many difficult-to-source language combinations.
We know your industry. As well as being highly qualified in translation, we have sector-specific linguists on hand who are experts in the terminology and jargon of your very industry.
Get in touch with our friendly team and find out how we can help you get your message across.