The United States of America – a vibrant fusion of different cultures and languages
It is perhaps a common misconception that English is the national language of the United States; however, there is in fact no official language in the US at the federal level.
That said, English remains the de facto language of the country, but to say the population mainly communicates in English would be a distortion of the true linguistic diversity of the American landscape.
So, what are the most spoken languages in the US?
More than 350 languages are spoken across the States, with roughly 91 million people speaking a language other than English at home.
Predominantly, there is the Spanish language, which is believed to be spoken by over 40 million people: or, in other words, around 13.4% of the population.
Next, there are the Chinese languages (Mandarin, Cantonese, etc.), which are estimated to be spoken by around 3.5 million people.
And finally, there is also Tagalog, Vietnamese, and Arabic, with each having over 1 million speakers in the US.
But of course, there are also many other languages in the linguistic mix.
"Language comprehension continues to be a structural barrier for many individuals…"
Despite the clear linguistic diversity that exists in the United States, language comprehension continues to be a structural barrier for many individuals—especially when it comes to voter education materials, electoral reform information, and candidate recruitment and training.
Simply put, many people may not be able to fully understand this important information.
Ultimately, accessible translation practices should become commonplace for government agencies, private corporations, and non-profit organizations alike – to increase inclusivity for everyone.
Private corporations can connect with new audiences, non-profit organizations can increase the reach of their message and ensure their studies are being fully understood, and government agencies can be certain that the diverse population is able to comprehend their materials.
Furthering on from this point, it is important to consider the digital landscape of today. As many people now digest important information via their smartphones, desktops, etc., translating digital texts and websites is just as essential as translating documents.
Boosting the representation of women with language accessibility
In essence, with such a large percentage of women having a native language other than English, many people remain at a disadvantage when it comes to understanding pertinent voting information, resources about running for office, or policy proposals that advance women's representation and leadership.
As a result of this, creating language accessibility is a vital step in ensuring all women, regardless of their primary language, can run, win, serve, lead, and engage in the democratic system.
One such organization that seeks to empower women with language accessibility and translated digital materials is RepresentWomen.
RepresentWomen and their mission
The amazing and inspiring team at RepresentWomen has been working with Wolfestone Group's Translation Services to ensure critical components of their research and outreach materials are accessible in the most commonly spoken languages of the United States.
RepresentWomen, alongside our organization, has produced translated websites in Spanish, Chinese, French, Tagalog, and Vietnamese; and are in the process of also creating a website in Arabic.
These translated websites include the organization's crucial research on ranked-choice voting, the Fair Representation Act, international research, rankings for gender-balanced representation, as well as a glossary of terms unique to the American political system and a Gender Parity Index.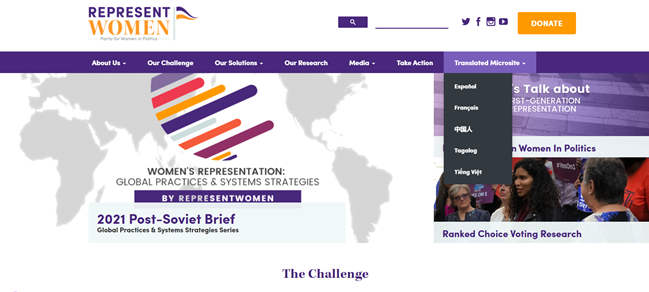 As a final note, Cynthia Richie Terrell, the Executive Director of RepresentWomen, said this on the importance of translating the website and social media content into other languages:

"By evolving our website and creating a more accessible source of information and resources, we are working to ensure that all of us, regardless of English proficiency, can fully engage in our democracy as voters, candidates, and lawmakers."