From translating websites to localizing digital catalogs, our language solutions will help you increase international sales and authority.
Speak Your Customers' Language
Encompassing a rich variety of sectors and goods, ecommerce is revolutionizing the way businesses operate. This opens up new opportunities for companies to reach customers from all over the globe. In 2021, worldwide sales were valued at just over $5.2 trillion, with 56% growth expected until 2026.
As the ecommerce industry continues to grow and become more competitive, it's crucial for businesses to have a multilingual digital presence, in order to reach customers globally.
Our language solutions cover 100% of your online language needs, meaning you can communicate with customers and prospects, wherever they may be. With our professional services, you can enter new markets, increase revenue, and establish multilingual search engine authority.
Contact us today to find out about our ecommerce translation and localization services.

Working with Wolfestone is easy and efficient. Their customer service and account management go above and beyond to make sure that their translation are high-quality and on-time.
Ecommerce Translation
With 76% of consumers preferring to purchase a product if it is described in their native language, translation is essential for any business looking to enhance their customer experience.
By providing customers with a translated version of your website and product information, you can increase the likelihood of them making a purchase. Additionally, by speaking your audience's language, you can ensure your brand is recognized as trustworthy and credible.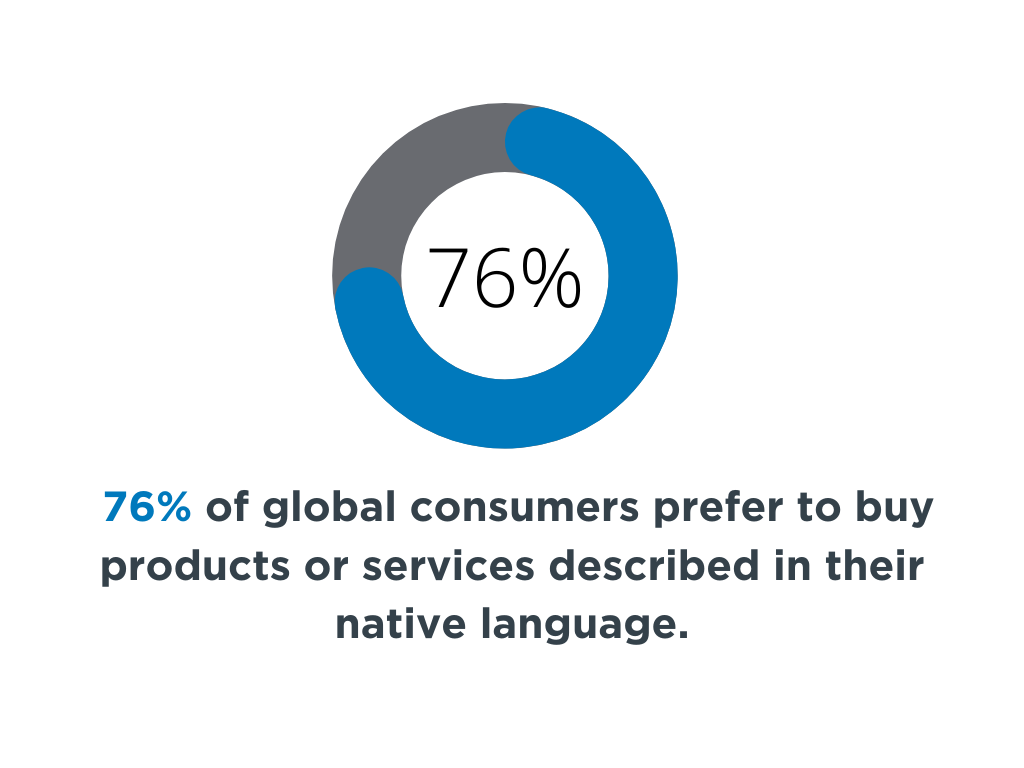 At Wolfestone Group, we believe in the importance of ecommerce translation and offer a range of solutions, tailored to meet your business needs. We can translate catalogs, websites, infographics, and marketing content, as well as shipping documents, sales collateral, and legal contracts.
Our team of professional translators have the expertise and experience to provide accurate and high-quality translations, so that your business can succeed in the global eCommerce market.
Ecommerce Localization
Localization involves adapting your text to be better understood by a specific audience. Usually, this is based on region. A popular example is that a website written in American English would need to be localized for a British or Canadian audience. This can involve changing the spelling of certain words, or other cultural elements so that they are easier for your audience to comprehend
Localization is crucial for businesses looking to expand into new markets. This service allows you to tailor your online communications to the specific cultural, linguistic, and legal requirements of your target region. This helps increase customer engagement, understanding, and trust, leading to better conversion rates and higher sales.
Communication with your customers and clients is necessary for any business, and localization is a key part of communication. Wolfestone Group offers this service for a number of regional dialects and diverse cultures.
Localization strategies can also include adapting payment and shipping options, which often vary from country to country. You need to make sure that prices are shown in the correct currency, and taxes are calculated correctly, or you could miss out on a sale in the very last step. Or worse – you could run into legal issues by accidentally breaking regional compliance.
The Benefits of Localization:
Tailors online presence to specific cultural, linguistic, and legal requirements of target country
Increases customer engagement and trust
Leads to higher conversion rates and sales
Helps to comply with regulations of the target country
Improves the user experience, providing relevant and accurate information
Works to establish a strong brand image and reputation
Enhances search engine optimization

Get in touch today to start your project.
Why Wolfestone group?
Wolfestone Group is the perfect choice for businesses looking to enhance their cross-border sales and establish themselves in international markets.
Our team of linguists and project managers have the skills to provide professional, quality services in over 220 language pairs. With more than 50 awards and nominations, we have a proven track record of helping businesses succeed in the global ecommerce market.
Our industry experience and unrivaled network of linguists allow us to deliver the most accurate and impactful translations fast. That's why brands like Google, Lead Sim, and Wish choose Wolfestone Group for translation services they can trust.
Contact us for your free consultation and quote.